You made a difference in 2019 — for girls, for families and for communities. As we start a new year, let's look back and see some of the things you made possible!
1.You helped Yekaba stop her own wedding
When Yekaba was just 12 years old, she found out that her father was planning to marry her off to a man twice her age. But fortunately, she knew what to do.
In 2019, your support helped to create girls' clubs like the one at Yekaba's school in Ethiopia. There, she learned about the dangers that child brides face, and got access to a letterbox where she could confidentially alert her teachers if she was in danger.
So, when she found out about her father's plans, Yekaba rallied a team behind her, from teachers to her mother to a local leader. Together, they convinced her father to cancel the wedding! Today, Yekaba is still in school and hopes to one day become a doctor.
2. You showed Gilcielen that girls can play soccer
"For as long as I can remember, I was told that soccer was only meant for boys," Gilcielen says.
Where she lives in Brazil, gender roles are strictly defined. Few girls get to play soccer, and those who do definitely don't play alongside boys. But that's starting to change, thanks to your support of a Plan International project that's teaching boys and girls how to play the game. Together, they learn about equality, while developing key leadership skills and self-confidence.
3. You put Faith on the path to giving back
When you sponsor a child through Plan, your impact ripples throughout his or her family and community. You don't just help one person — you give your sponsored child a chance to grow up into an adult who helps other people, too. What gift is better than that?
Faith, from Kenya, is a great example. She became a sponsored child in 1982 when she was 7 years old. Today, she's a Plan program officer in Kenya, giving back to other children in need. 
4. You built a bathroom that changed everything
Your gifts in 2019 are helping to build a critical resource at schools: girls' bathrooms. In this photo, four girls in Laos are jumping for joy because Plan recently constructed a new dormitory for their secondary school, complete with private bathrooms.
"It's much better that we don't have to share the toilet and bathroom with boys," one student says. "I think it is more private for girls, especially when we take a bath or are on our periods."
5. You supported Sarah as she fought for a life free of exploitation
Sarah was just 12 when she started working as a prostitute in the Dominican Republic. Abandoned by her family, she had nowhere else to turn. But then, after six years, something changed. Sarah found out about a Plan program that set her up with a psychologist to process the trauma she had experienced, and found her a job at a nearby hair salon.
"My dream is to be a psychologist one day like the one who helped me," she says. "I want to give girls like me who have experienced horrible things on the streets another chance at happiness."
Sarah's name has been changed to protect her identity.
6. You gave Heart the chance to speak out
To celebrate International Day of the Girl in the Philippines, 16-year-old Heart (far right) partnered with local radio hosts to discuss gender equality and girls' rights. They talked about how media portrayals of girls and women can limit their opportunities in the real world.
"Girls can do more than just washing the laundry or the dishes, which is how they are portrayed in advertisements," Heart says. "This is what creates stereotypes and must stop!"
7. You made it possible for children to go to school
More than 10 million children are currently out of school in Nigeria, according to government sources. And in northeastern Nigeria, the situation is especially challenging, as violent attacks on education facilities have further increased the drop-out rate. But, thanks to your support, more children are back and safe in their classrooms.
In 2019, you supported education programs in Nigeria's Borno state. Newly enrolled girls and boys received uniforms, sandals, bags and other school supplies to ensure they had everything they needed to focus on their education. For many children who had never been to school, it felt like a dream come true.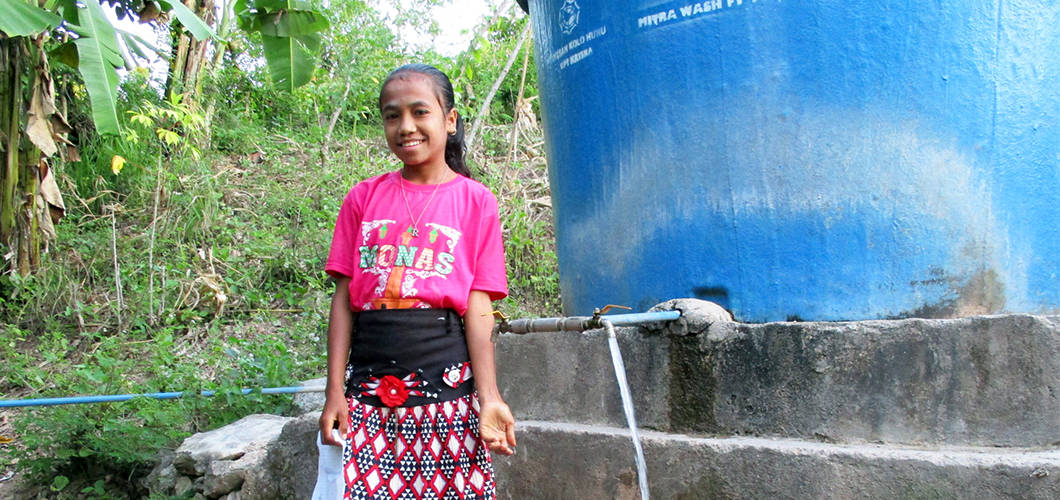 8. You used clean water to keep Femi in school
Where Femi lives in Indonesia, it can sometimes take up to six hours a day to collect water — a job that's traditionally assigned to girls and women. Instead of preparing for school in the mornings, Femi had to spend her time fetching water. She often arrived late to her classes as a result. But then, something changed.
Thanks to your support, communities around the world like Femi's have received access to clean water this year. The new water tank in Femi's community is less than 50 feet away from her house.
"I am happy and am free to spend more time playing and studying," Femi says. "I don't worry about being late to school anymore."
9. You supported Grace, and girls like her, in taking the lead
In 2019, more than 1,000 young women around the world celebrated International Day of the Girl by "taking over" positions of power. From television studios to international banks, girls sparked conversations about gender equality and girls' rights globally.
In Washington, D.C., Plan Youth Advisory Board Member Grace (above) took over for Rhode Island Congressman David Cicilline.
"When girls and young women like me are listened to, included and encouraged, the future not only seems brighter, it truly is," Grace says.
10. You created a safe place for Walter and other Venezuelan refugees
More than 4 million Venezuelans have fled poverty and political instability in their country since 2015. Hundreds of thousands of children and their families have fled into nearby Peru, including 13-year-old Walter (above). Many of these children haven't been to school in months, and are in dire need of psychological support after the difficult journey from home.
This past year, you helped to create oases of support like the "Happiness Tent" that Walter visits. There, he can play board games with other children, read books and talk to professionals who specialize in providing psychosocial support to children in crisis.
11. You taught Adolfo how to be a better dad
With your gifts in 2019, you helped moms and dads become better parents. Because of what he learned in his positive parenting training in Paraguay, Adolfo (above) transformed his relationship with his son.
"Often, fathers don't show much affection to their families," Adolfo explains. "Fathers [in my community] didn't used to carry their babies. But we learned in the workshops that children need to be shown love and affection during their first 1,000 days of life, to be cuddled and played with. We all need love."
12. You spread Kadiatou's message
You helped to stop countless child marriages in 2019 by working with young activists like Kadiatou in Guinea. In her Girl Leaders Club, she learned that even though child marriage is illegal in her country, the law often isn't enforced. So, she made up her mind to do something about it.
"Thanks to the girls' club, we've been able to cancel several marriages in Guinea," Kadiatou says. "We report cases of early marriage to the police and we follow up until we get results."
13. You fought for Maholy — and so many children like her
Maholy started to get sick when she was 12 years old. At first, the doctors in Honduras told her parents it was anemia. But after more tests, they delivered the final diagnosis: Maholy had leukemia.
She spent the next seven months in the hospital. Her parents took turns visiting her whenever they could, but money was tight. They weren't sure if she would ever get better.
But this story has a happy ending. Your continued support made it possible for Plan to help Maholy's family with their hospital bills. Now, Maholy is 14 years old. Her cancer is in remission, and she has some advice for children who are sick like she was.
"Keep fighting," she says. "If I can be healed, then you can be too."