Some say the best way to learn about another country is through your taste buds. A country's food can speak volumes about its history, values and culture. When I've traveled to see Plan programs in action, some of the best stories I come back with have to do with food.
Unfortunately, nobody is traveling as much as they used to these days, due to COVID-19. So, why not bring the food of another country to your kitchen?
We've created a collection of traditional recipes from Plan International USA sponsorship countries around the world, and most of them don't require hard-to-find ingredients or difficult-to-master methods. We're all at home and cooking more than we used to — why not spice things up?
Here are three recipes to spice up your cozy fall nights:
Recipe #1: Daal from Bangladesh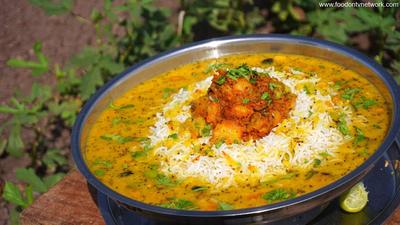 Plan USA program staff member Kate Ezzes says, "Served as the core part of every lunch at Plan's office in Dhaka, Daal is a lentil dish served in a million different ways, such as a soup eaten over rice, and ranges from pretty bland to mega-spicy — but, from experience, it's difficult to eat while in a moving vehicle!" 
Prep time: 15 minutes
Cook time: 30 minutes
Serves: 4
Ingredients:
1 onion chopped
1 head of garlic (minced)
2 tablespoons of vegetable oil
3 cups of vegetable stock
2 chiles chopped (preferably Bird's Eye chiles, but any chile will do!)
1 cup of lentils
2 tomatoes, finely chopped
1/2 teaspoon of turmeric
1/2 teaspoon of coriander
1 teaspoon of cumin
Salt
Instructions:
1. In a frying pan, saute onion and garlic in vegetable oil over medium-high heat until browned (3-5 minutes).
2. Add vegetable stock, chiles, lentils, tomatoes, turmeric, coriander and cumin to the pan.
3. Bring the mixture to a boil, then reduce to medium heat.
4. Let simmer for 15-20 minutes.
5. Turn up to medium-high heat and cook for 5-7 minutes until mixture thickens.
6. Add salt to taste before serving, and enjoy!
Recipe #2: Peanut and Squash Soup from Senegal
Plan USA program staff member Dr. Molly Fitzgerald says, "Peanut and squash soup is usually served with rice and hot sauce. Some sort of meat may be included as available, but it's delicious no matter what, and the spicier the better!"
Prep time: 10 minutes
Cook time: 15 minutes
Serves: 6
Ingredients:
4 cups of butternut squash, peeled and cubed
4 cubs of chicken broth
3/4 cup of creamy peanut butter
1 1/2 teaspoons of peanut oil
1 cup of onion, chopped
2 tablespoons of tomato paste
1/2 teaspoon of cumin, ground
1/4 teaspoon of coriander, ground
1/2 teaspoon of salt
4 teaspoons of cayenne pepper
1/2 teaspoon of crushed red pepper
Chopped cilantro (garnish)
Directions:
1. Heat peanut oil in saucepan over medium-high heat.
2. Add squash, onions, garlic, salt, cumin and coriander.
3. Saute until onions are tender, about 5 minutes.
4. Add broth, peanut butter, tomato paste and pepper.
5. Stir well and bring to a boil.
6. Reduce heat and simmer, uncovered, for 10 minutes.
7. Sprinkle with cilantro before serving, and enjoy!
Recipe #3: Pupusas from El Salvador
Plan USA staff member Catherine Rolfe says, "Pupusas are everywhere in El Salvador! These stuffed, thick tortillas are very delicious and come in many different flavors. They're usually served with curtido, which is kind of like Salvadoran cole slaw."
Prep time: 20 minutes
Cook time: 15 minutes
Serves: 8
Ingredients:
2 cups masa harina (or 2/3 cup of cornmeal and 1 1/3 cups of all-purpose flour)
Pinch of salt
1 1/3 cup warm water
1 cup of grated cheese
2 tablespoons of sour cream
Vegetable oil
Directions:
1. Combine masa harina (or plain cornmeal and flour substitute), salt and water in a mixing bowl.
2. Knead to form a smooth, moist dough with a Playdough-like consistency. If the mixture is too dry, add water, one teaspoon at a time. If the mixture is too sticky, add more masa harina/cornmeal, one teaspoon at a time.
3. Cover bowl with a clean towel and let stand for 10 minutes.
4. With lightly oiled hands, form the dough into 8 balls about 2 inches in diameter.
5. Using your thumb, make an indentation into one of the balls, forming a small cup. Fill the cup with 1
teaspoon sour cream and 1 tablespoon of cheese.
6. Wrap the dough around filling to seal it. Making sure filling does not leak, pat the dough back and forth
between your hands to form a round disc about 1/4 inch thick. Repeat with the remaining balls.
7. Using a lightly oiled skillet over medium-high heat, cook the pupusas for 2-3 minutes on each side, until golden brown.
8. Serve warm, and enjoy!