"That's just the way it is."
It's not a particularly threatening statement. And yet, for many girls and women in Central America, complacency can literally be a death sentence.
Gender-based violence happens everywhere. But the risk is highest in areas where a culture of violence is normalized. In the countries of Guatemala, El Salvador and Honduras, machismo is widely accepted as the status quo. Boys will be boys, men will be men. They are aggressive and violent by nature; they can't help themselves. That's just the way it is. Or so the narrative goes.
Elevated levels of crime, gender-based violence and instability in these countries have created a culture where violence is the norm. It's a culture where girls and women live in constant fear, because the threat of gender-based violence is everywhere, even places that are supposed to be safe havens — school, the streets where they once played, even their homes.
Faced with extreme poverty, violence and despair, many choose to leave, in search of someplace safe to call home. But all too often, the danger they're trying to flee follows on their heels. Migrating girls are at risk for abuse, trafficking and assault. Whether they stay or go, for many, there is no escape.
It's easy to feel overwhelmed. The obstacles can seem insurmountable. So, where do we even begin?
The truth is there is no simple solution. The only way to end a culture of gender-based violence is to go back to its roots, challenging harmful gender norms, which can be detrimental to boys as well as girls, and reshaping unequal power relations. Children must learn about gender equality at school from a very young age. There must be community dialogue around the attitudes toward punishment and dominance that perpetuate a culture of violence.
Too often youth are dismissed, or seen as a problem to be solved, not as the solution. But experience has shown us that the best place to start is to ask the experts — the girls and young women themselves. In order to achieve real change, girls must live in societies where they are heard and respected, where laws are in place to protect them and promote their equality and where leadership and economic opportunities are available to them.
That's why we don't just work on behalf of girls and young women. Using our GirlEngage approach, we work with them to identify the challenges they face, and define their visions of success.
This doesn't happen overnight, and it isn't easy. But when we see how brave and resilient these girls are, we're more determined than ever. They haven't given up, and neither can we. We owe it to them to keep fighting against the status quo. They need to know we're in it with them for the long haul.
Sponsorship is one powerful way you can provide ongoing support for girls in Central America. When you sponsor a child, you have the opportunity to develop a meaningful connection with a young person while catalyzing serious change. You help to tackle gender inequality and remove the barriers preventing girls from reaching their full potential. Our commitment to the full participation of young people in their societies means integrating gender equality into all of our programs. After all, gender equality is a benefit to all, and a fight we take on together — no matter your gender identity or your age.
Slowly but surely, girls are beginning to build secure futures for themselves, and their families, right in their own communities. Take 22-year-old Elizabeth, from Guatemala. Elizabeth became a sponsored child when she was 6. As she got older, she joined a Plan youth group, where she learned about her rights. Eventually, she became a gender equality spokesperson, attending workshops and traveling to other communities to share her experiences and speak with girls about the obstacles blocking their paths.  
"We took part in an event with the mayor to speak in public about the situation that girls in Guatemala face," Elizabeth said. "We were able to speak freely about the issues that threaten girls, such as violence and child marriage."
Their voices were officially heard, and child marriage was outlawed in Guatemala in 2017.
Elizabeth graduated from high school with financial assistance from Plan and is now attending university. She hopes to be a psychologist one day, but in the meantime, she's found a job to help pay her university fees, working at one of Plan's program offices as a sponsorship assistant. It's a full circle moment, and a responsibility she takes very seriously. She knows the power of sponsorship, and how it can change lives, because it changed hers.
Like Elizabeth, 17-year-old Keysi from Honduras also became a sponsored child at a young age, when she was only 5. Over the past 12 years, she's exchanged letters back and forth with her sponsor, a friendship which lifted her spirits through difficult times.
Keysi's bond with her sponsor isn't unusual. Over the past decade, Plan surveyed thousands of sponsored children, and the results were inspiring. Sponsored children who receive letters from their sponsors were happier, healthier and more confident.
As someone who works at Plan, this news doesn't come as a surprise to me. One of the most rewarding parts of my job has been witnessing the special bond that forms between a sponsor and sponsored child. I've seen the remarkable power of sponsorship — not just for the sponsored child, but for the sponsor, too.   
We encourage our sponsors to visit their sponsored child if they ever have the chance, as this gives them the unique opportunity to see firsthand how their sponsorship is changing lives. Time and time again, sponsors have said that meeting their sponsored child, after years of exchanging letters and pictures from thousands of miles away, was one of the best experiences of their lives. It's a memory they will cherish forever. Some even go back to visit multiple times over the years.   
I've seen how the support of a faraway friend can lift a brave girl up, motivating her to pursue her dreams, just like Keysi is doing right now. Recently, Keysi joined a Plan program which gives young women access to financial training and services, as well as entrepreneurship and gender equality training. She hopes to start her own tailoring business one day.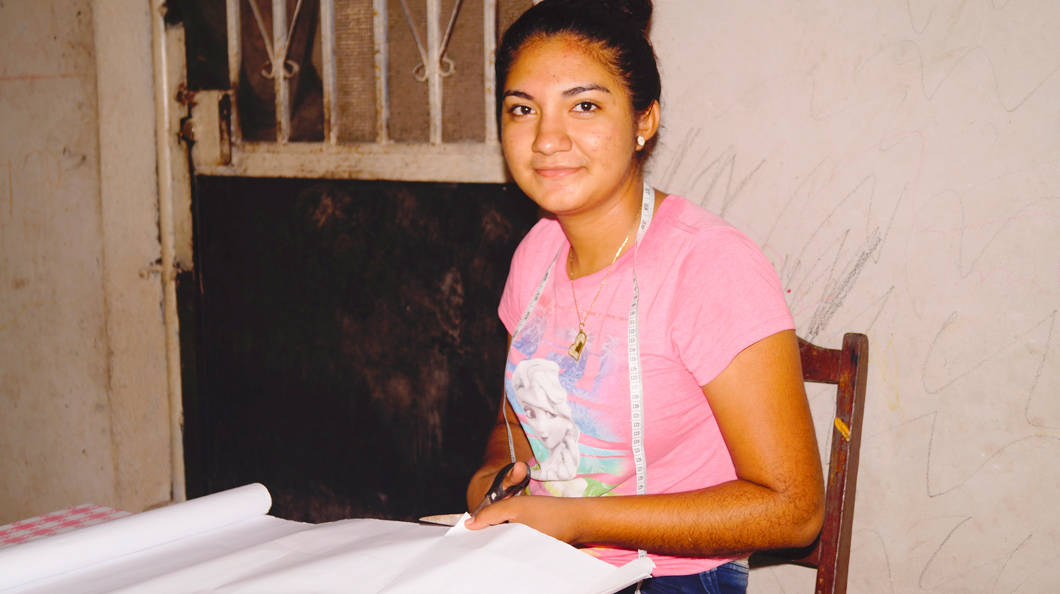 "During the training, one of the subjects which really caught my attention was the inequality in opportunities that exist for men and women," Keysi said. "I have now learned that we have the same social status and that we should be valued equally for our efforts and abilities."
At only 12-years-old, Flor from El Salvador is younger than Elizabeth and Keysi, but just as determined. Flor is a proud Champions of Change participant, a Plan program working to alleviate gender inequality and violence, while helping boys and men to change sexist behaviors in their families, and communities to support girls and champion their rights. The project promotes changes in attitude and increases knowledge regarding gender relations, encouraging the development of respect between girls and boys, modifications in cultural structures and a safer and healthier coexistence. It also provides girls with safe spaces, protection through peer networks and access to mentors and leadership opportunities.
"My life before Champions of Change was limited, but when the project arrived, it made me know more about the position that girls live with each day and motivated me to work hard to transform that situation," Flor said. "I was a panelist at the forum 'Girls and women for equality' where I explained what I see in my community and what is needed for girls to be able to fully exercise their rights. Very important decision-makers heard me."
Questioning the status quo takes courage, and confidence. Leaders like Elizabeth, Keysi and Flor are standing up, but they can't do it alone. The encouragement of a caring sponsor like you can make all the difference in the world for a child in Central America. Together, we can tear down barriers and clear the way for her next step —  toward safety, happiness and the life she wants.