Orphaned at 15, 17-year-old Melissa lives with her uncle, aunt, and seven cousins in a remote village in Zimbabwe.
Forced to drop out of school two years ago when it got too expensive, the teenager spends her time at home dreaming of a better life.
"I'm envious when I see the other girls and boys passing our home as they go to school," she said. "I wish I could still go, too."
Melissa isn't alone in wishing she could return to school. It is common for girls from her village to leave school because they can't afford it, or because they get married.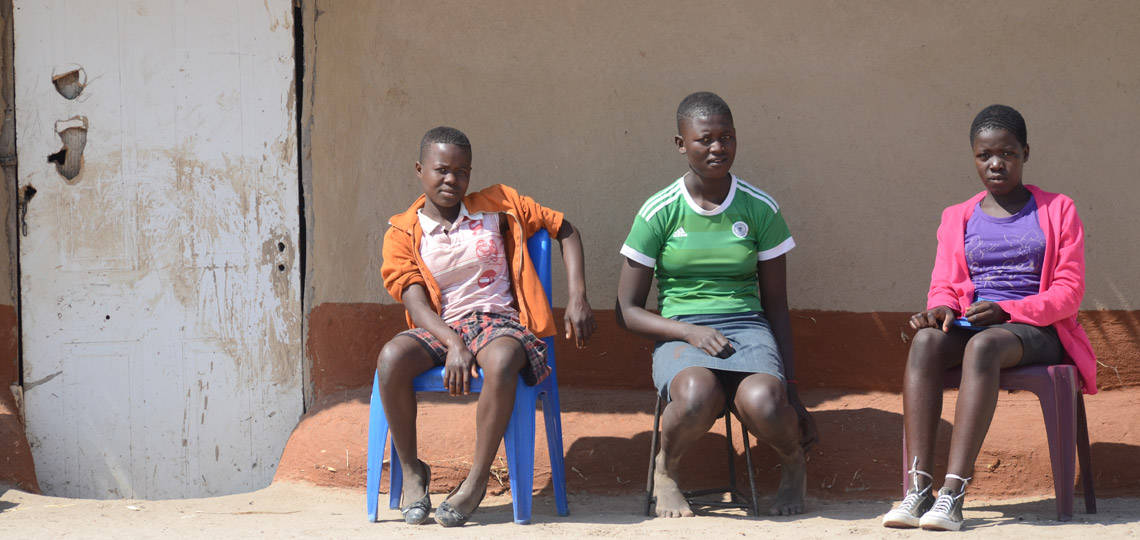 "I had four years of school when my mother was alive, but had no money to register for my secondary school exams, so I dropped out," she said.
At $105 a term, it's a steep price for Melissa's extended family, which is having trouble making ends meet.
"I regret leaving and just sitting at home," she said. "I don't have my school uniform anymore – just the blouse."
It's clear that having to leave school was painful. Her stepfather used to pay for school. But, since her mother's death, her stepfather and her brother are nowhere to be found.
Now, she fills her days with household chores, but the time usually drags on. It's the monotony that gets her down.
"When I wake up, I sweep the yard and do the dishes," she said. "Then I water the garden. I enjoy cooking sadza [thick porridge]. Then I might speak to my friends for a little while.
"I liked playing netball when I was at school and I still find time to play it with some of the other girls who also no longer go to school. That's it though. Chores and a bit of netball. There's nothing else to do here."
Idleness
The issue of "idleness" is dominant among girls in rural parts of Zimbabwe who have left school and lack skills and opportunities to acquire work. In the new Counting the Invisible report from Plan International, girls interviewed say that they are afraid of being '"idle," staying at home with no education or work opportunities to develop their skills and occupy their time in a meaningful way.
Eighty-one percent of girls interviewed aged between 15-19 years old reported that they had to drop out of school either temporarily or permanently. The overwhelming majority said the reason behind this was economic, while others cited early pregnancy and early marriage as barriers to continuing their education.
Once out of school, girls said the risk of early marriage and early pregnancy increased, which they see as an inevitable consequence of having nothing else to do with their lives. Girls also reported feeling pressure from families and guardians to marry in order to relieve the financial burden of the household.
"There are hundreds of girls like Melissa in Zimbabwe's remote areas that live an unfulfilled life because they have been forced to drop out of school," said Lennart Reinius, Country Director for Plan International Zimbabwe. "They are invisible to decision-makers because no data on their life circumstances are recorded. They are forgotten about."
Education Key to a Better Life
Melissa's neighbor Nyadzisai, a 35-year-old mother of six, says there's nothing for girls and boys to do if they are out of work and school. Frequent droughts in recent years have taken a toll on crops and cattle and reduced income for local families selling their produce and milk from cows.
"The situation is just as bad for boys and girls," she said. "Boys are working in dangerous gold mines for nothing and girls are getting married at 13. We work very hard in the mines but we are not getting paid. There is not much food or water. Only hunger. We will wait for the rains to come so we can go to work again and send our children to school."
The mother recognizes the power of education as a way out of hardship and promise of a better life.
"We think our children should be in school to learn subjects, but to also be exposed to other world views," she said.
Nyadzisai is aware of the risks girls face being out of school and alone at home.
"There's nothing for girls to do," she said. "They become easy targets for men and often end up becoming pregnant. When girls go to school they are safe and protected."
Hopeful for Change
Unlike a lot of girls her age in similar circumstances, Melissa asserts she is not tempted to get married and have children now.
"The time for marriage is not yet," she said. "Marriage is tough. I don't want that. I see married girls having a hard time. Husbands can be unfaithful. They don't give their wives money…"
Melissa laments that although her future seems uncertain right now, she is hopeful that change will come. She currently helps her Aunt with growing vegetables and selling tomatoes. She says that she would even consider having a shop one day.
However, thoughts about the future get Melissa worried.
"It's hard to imagine," she said. "I only see a bleak future. I have no education. I have to change it and go back to school." Plan is advocating for girls to be treated as equal partners in development and to have their views valued and their voices heard through global advocacy.
"In Zimbabwe, as in many other countries, young girls who drop out of school and marry disappear from official records and do not figure in official statistics, so service providers are less inclined to act to support them," said Reinius. "In addition, the invisibility of girls is reinforced by a multitude of other factors too such as poverty, rural isolation and lack of economic opportunity. It's a tough cycle to break.
"It's important that girls like Melissa are counted—that we bring visibility to their realities so girls' lives can be changed."