Children and their well-being are at the center of everything we do, and although children do appear less impacted by COVID-19 than adults, the pandemic will no doubt affect the environment in which they grow and develop.
The COVID-19 pandemic is severely challenging the most advanced economies, and the consequences in low-income countries with fragile health systems could be far more devastating. We are currently facing the worst health crisis of a generation.
The novel coronavirus known as COVID-19 has spread across more than 160 countries, with over 220,000 cases reported and nearly 9,000 fatalities. As the United States and many other countries take serious measures to contain the spread of COVID-19, we at Plan International are calling on governments to consider children and vulnerable groups as they respond to the spread of COVID-19.
The challenges for children, particularly girls, ranging from the disruption in education, increased risk of sexual violence and mental health risks, will be much greater in poorer countries.
Learn more about the three ways in which the COVID-19 pandemic can impact children and their lives in low-income countries around the world:  
1. Education is interrupted for children
More than 850 million children and youth — roughly half of the world's student population — has had to stay away from schools and universities due to COVID-19.
Education plays a pivotal role in eradicating poverty and equalizing societies — especially in low-income countries. But when education is interrupted, it increases risk factors for children who rely on schools for essentials such as food and nourishment through school feeding programs.
Schools are also safe spaces where children are often protected from abuse or exploitation such as child labor. For girls, being out of school increases the risk of child marriage and sexual violence.
In addition, when children are out of school for unknown and prolonged periods of time, it is a challenge to ensure they resume their education when schools reopen.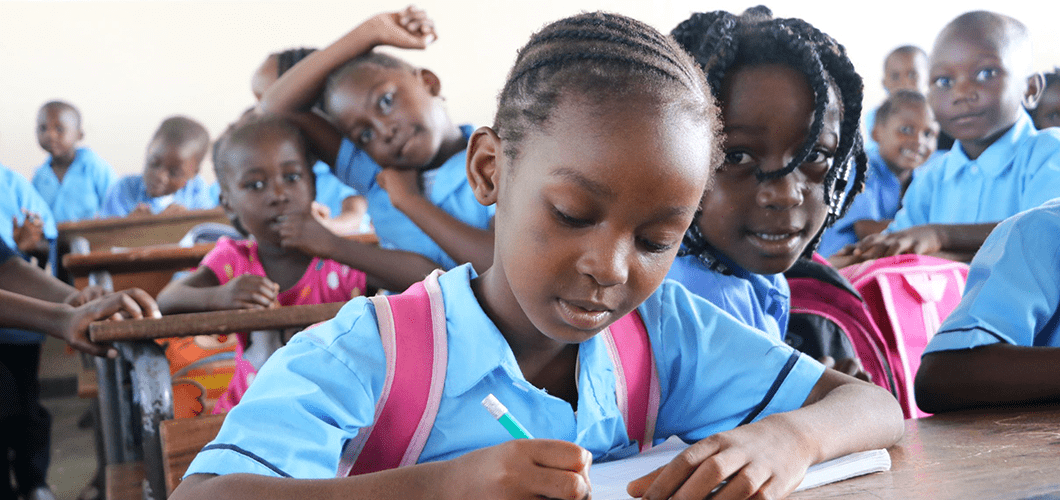 2. Increased stress at home for children
Ten percent of the world's population lives on less than $2 USD per day. For many families, the impacts of COVID-19 can exacerbate poverty either due to illness or death in the family, increased health care costs, caring for sick family members and/or loss of employment.
With these increased stressors, children may experience fear and anxiety at home because their parents or caregivers may not be able to meet their basic needs. These changes pose risks to their well-being and development, especially in young children.
Some families under pressure might also be forced to make tough choices about their children's futures. For boys, this might mean expectations to engage in potentially hazardous and exploitative labor to help support the family due to economic hardship or the illness of a parent. And for girls, poverty and crisis play a significant role in parents' decision to marry their daughters at a young age.
3. Children become vulnerable
COVID-19 has closed schools and threatens to decrease the availability of other protective structures such as family and support services that children may need to stay safe.
For many children, their parents or caretakers are their first line of defense from harm. However, caretakers who become severely ill or worse due to COVID-19 leave children exposed to potential harm and danger such as mental distress and exploitation.
Furthermore, research shows that an increase in stress on families tends to increase the risk of family violence. Closure or inaccessibility to basic services for vulnerable children and their families means they may not be able to access usual supports or treatments. For example, regular in-home checkups for children at risk may be reduced or canceled.
Protecting children's rights every day
Plan International is active in more than 75 countries and supports thousands of disadvantaged communities. As an organization, we are committed to ensuring that our critical programming to advance girls' rights remains a focus during the COVID-19 crisis.
Children, especially girls, and whole communities would be affected by any stoppages in our work, and we are continuously assessing how we can continue our programs and best support those who are most vulnerable in low-, medium-, and high-transmission areas.
Working together in response to COVID-19
Our response to COVID-19 will focus on working with communities, national governments and partners to tackle the spread of the coronavirus through dissemination of public health information and promotion of best hygiene practices, including installation of hand-washing facilities.
We will work with teachers, parents and health care providers to identify safe strategies to provide mental health support to children and their families. In addition, we will intensify preventive and response measures in refugee and displaced camps where we currently work.
Now more than ever, we need to continue our work to advance girls' rights across the world. Donate now to help make an impact for girls in need.