You're making a difference in the lives of so many children — but you don't have to take our word for it! A picture is worth a thousand words, so check out these 13 photos that show the impact people like you made in 2018.
Two girls find hope amid devastation in Cox's Bazaar. 
For many Rohingya girls, life has been turned upside down. Having fled persecution in Myanmar, they now live one of the largest refugee camps in the world.
For adolescent girls in particular, the current crisis has been especially hard. Many witnessed and experienced extreme violence when they fled Myanmar. With their families fearful for their safety in the camps, girls are often confined to their shelters.
That's where people like you come in. With donor support, Plan International USA was able to build child-friendly spaces in the camps. Here, children can spend time with other kids their age in a safe place, while their parents do essential chores to support their families.
This is Rahina, 17, and her friend Khurshida, 14. Rahina describes Khurshida as "always smiling." In return, Khurshida says Rahina "always listens to me and respects my opinions."
Even though girls in the camps have seen unthinkable violence and now live with almost nothing, you've helped to give them something positive in their lives: friendship. Thank you!
Sponsored girl in Ethiopia gets the tools for success
Because Munta is a sponsored child in Ethiopia, she received a special school kit from her local Plan office.
"Today, I received a dozen exercise books and pencils, as well as a school bag," Munta says. "I want to thank Plan International for the provision of these school materials. My family couldn't afford to buy all of these at once, which would have been a problem for my education. But now, I am happy because I have these school items.
"I am proud of being a sponsored child of Plan International," she adds.
Men in Ecuador fight for girls' rights
Jhon, pictured here with his baby niece, lives in Guayaquil, the biggest city in Ecuador — and one of the most dangerous for women. But he's trying to change that.
Jhon is a facilitator for Plan's Teenage Pregnancy-Free Zone project in Ecuador, supported by people like you.
"My biggest dream is that my family and my sisters have every opportunity to succeed," he says. "That they can study. That they can become women who are respected by men. That they can live in a community where they do not have to be afraid to go outside."
Indonesian children go back to school after earthquake and tsunami 
Nearly two months after a powerful 7.4 magnitude earthquake and tsunami devastated the provincial capital city of Palu in Indonesia's Central Sulawesi, children are starting to return to school.
Your support is helping students like these regain a sense of normalcy in their lives after the disaster. Thanks to people like you, we're setting up temporary learning spaces at schools damaged during the earthquake. Twenty-three learning spaces will be built at schools in Sigi, Palu and Donggala, along with toilet facilities. Donor support also helps to distribute school kits and train teachers in disaster preparedness.
Nigerian girl gets up to speed in school
Two years ago, Hadjara's life took a turn for the worse. Her father died, and her mother was struggling to make ends meet while taking care of her five children. As a result, Hadjara was forced to drop out of school to help with the upkeep of their home.
One day, while listening to the radio, Hadjara's mother heard about a Plan "speed school" opening in their community — a project donors like you made possible.
These unique schools are temporary learning centers where children like Hadjara can get the support they need to "speed" up their return to the classroom. Now, Hadjara's education is back on track — thanks to people like you!
Bolivian children spread the word about water through drawings
Children are raising awareness about the importance of clean water with your support. This drawing, called "Water Care" by 9-year-old Mikael, was part of a contest Plan held in Bolivia. More than 6,000 students entered drawings and paintings showing why water is important in their lives, and what they can do to conserve it.
In his drawing, Mikael writes, "Let's try to make our showers last less than 10 minutes … Only with much willpower and responsibility will we manage to take care of our water!"
For Ding in Laos, water changes everything
Ding, 12, lives in a remote mountain village in northern Laos, about 50 miles from the district center. People in his community have been implementing education and water, sanitation and hygiene programs with Plan for more than three years.
"Since we got our new water system, we now have access to clean and safe water by simply turning on the tap," Ding says. "We have more opportunity to focus on education, and some households now have latrines and small gardens. Since we have enough water for washing activities, good health will follow and we will have better lives."
With gifts like clean water, you're creating a huge impact!
Children thrive in Tanzania's early childhood care centers
Since 1996, people like you have been supporting Tanzania's work to give children a healthy start. We've established 30 early childhood care centers where children learn through play and improve their physical and emotional development.
In addition, 60 caregivers and 30 committees were trained to assume the responsibility of running the centers. The training focused on child stimulation, care and development, as well as how to create play, teaching and learning materials using locally available supplies. In addition, 450 parenting group members learned about parenting skills, proper nutrition and good hygiene practices. In short, you've put smiles like this on preschoolers' faces!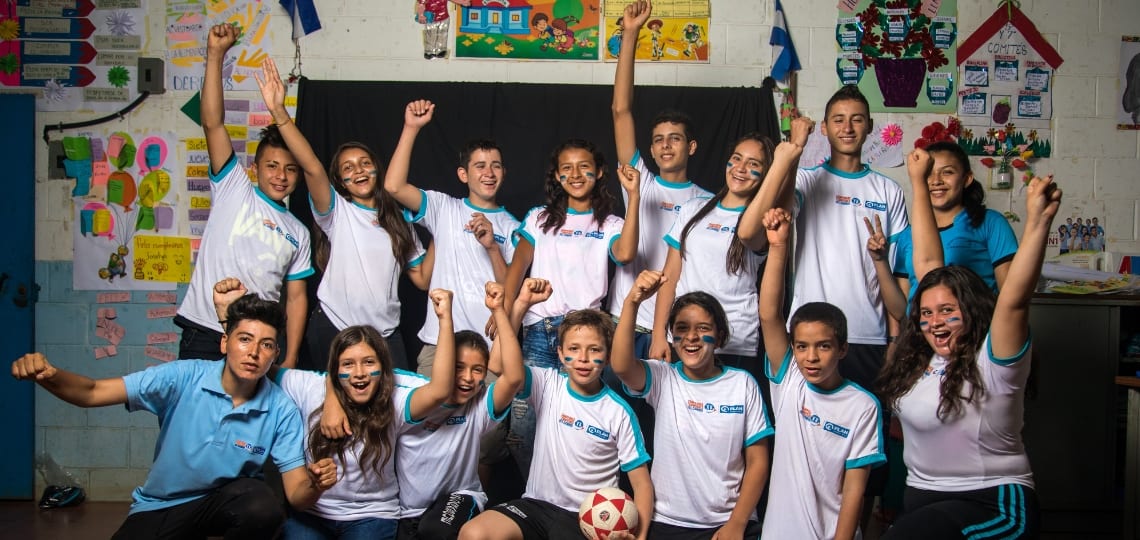 Ending the culture of violence in El Salvador
Over time, the elevated levels of crime, gang violence and instability have created a culture where violence is the norm in El Salvador. Girls are often in danger of physical, emotional and sexual abuse, resulting in many being sheltered from the outside world. Girls' mobility and access to education and extracurricular activities are often restricted as a result.
Projects like Champions of Change are working to alleviate gender inequality and violence in El Salvador. Through the project, boys and men are examining and changing sexist behaviors in their families, and communities are actively supporting girls and championing their rights. At the same time, the project is creating safe spaces for girls, providing them with protection through peer networks and connecting them to mentors and leadership opportunities.
With support from people like you, the El Salvador of tomorrow will be very different from the El Salvador of today.
Girls speak out in Egypt
Cairo isn't an easy place to be a girl. One study from the U.N. found that 99.3% of Egyptian women have been sexually harassed. While school is compulsory up to the age of 14, almost a fifth of children drop out before completing basic education. Street harassment is a major factor.
But now, girls in places like Cairo are teaching their communities that things don't have to be this way. Through Safer Cities for Girls, these young leaders are proving that they can go to school and make their community safer. Your support makes photos like this possible, bringing girls out of their homes to play with other girls their age — something they didn't get to do before.
Youth advocates take over positions of power around the world
You're also fighting gender inequality right here at home! To mark International Day of the Girl in 2018, more than one thousand girls in 68 countries occupied spaces and places where they are rarely seen or heard. These Takeovers encourage girls to pursue their ambitions and challenge the discrimination that holds girls back.
Honor, a youth advocate in the U.S., took over the role of BMO President of Wealth Management Darrel Hackett.
"I'm really excited about the impact she's having on girls pursuing leadership roles," Hackett tweeted afterwards.
Children recover from Guatemala volcano eruption
Over the summer, Guatemala's Fuego Volcano violently erupted, killing almost 200 people and displacing thousands of others. But people like you were ready to jump into action. As soon as the disaster happened, you made sure Plan could help the children affected.
Donor support helped to provide child protection services in three of the main shelters after the eruption, reaching more than 800 children. We also created child-friendly spaces where kids can be kids. Teams of trained psychologists were there to care for children's physical and emotional needs. And, they encouraged children to take part in games and creative activities to help them deal with the trauma of the disaster and the stress of displacement.
Unfortunately, the threat hasn't let up — on November 18, the Fuego Volcano erupted for the fifth time since June. But here's the good news: People like you haven't given up, and thanks to your support, we'll continue to be there for children in need.
Young activists in Nepal fight human trafficking
Every hour a girl or woman is trafficked in Nepal. That's more than 8,000 every year. Young people in Nepal are demanding action from their government, so that girls and women know about the risks and dangers of trafficking — and you helped to make their voices heard.
Sabina, 17, and Sarita, 15, live on the border with India, where girls are at risk of being lured to cross over with false promises of work. So, the friends created a global petition to demand an end to the trafficking of girls in their community. And people like you stepped up! More than 46,000 people around the world signed the petition.
On June 30, World Day Against Human Trafficking, Sabina and Sarita handed the petition over to their district mayor, asking him to commit to ending the trafficking of girls in Nepal. As a result, a new public awareness campaign will be launched, letting all girls in the area know about the dangers of trafficking, what to look out for and what to do to protect themselves from exploitation. That's what you helped young advocates to do in 2018 with your support: save lives!